Skip Global navigation and goto content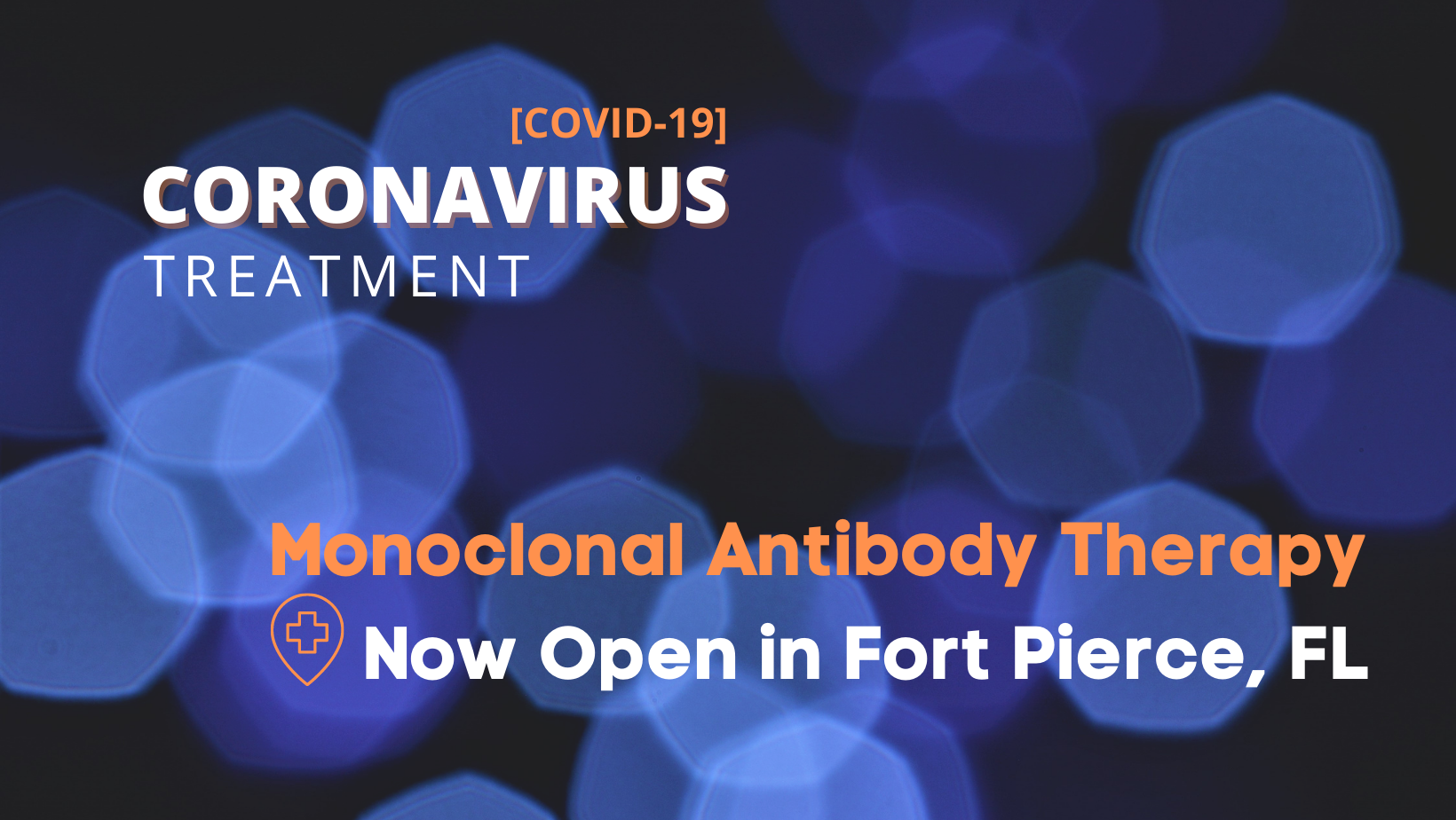 MONOCLONAL ANTIBODY THERAPY
The Florida Department of Emergency Management is operating a Monoclonal Antibody Infusion Treatment Center at the St. Lucie County Fairgrounds, located at 15601 Midway Rd., Fort Pierce, FL. The center is open Monday-Friday from 9:00 a.m. to 5:00 p.m. Walk-ins are welcome, but appointments are encouraged and can be made at https://www.patientportalfl.com.
For transportation options, go to www.slcride.org or call 462-1778.
COVID-19 VACCINATIONS at DOH-St. Lucie
PFIZER VACCINE
DOH-St. Lucie is offering 1st, 2nd, or 3rd* doses of the Pfizer-BioNTech COVID-19 vaccine at our office on 5150 NW Milner Drive, Port St. Lucie. Pfizer is the only COVID-19 vaccine authorized for persons age 5-17 years.
INDIVIDUALS 12 and Up – NO APPOINTMENT NECESSARY
Pfizer-BioNTech COVID-19 vaccination for individuals 12 years and older is available on a walk-in basis, Monday through Friday between 8:00 a.m. – 8:30 a.m. and between 1:00 p.m. – 4:30 p.m. No appointment is necessary.
CHILDREN AGES 5-11 – BY APPOINTMENT ONLY
Pfizer-BioNTech COVID-19 vaccination for children ages 5-11 years is being offered by appointment only. To make an appointment call 772-462-3800, listen to menu, and then select option "1" to schedule a medical appointment. A second dose of the Pfizer-BioNTech vaccine will be needed three weeks after the first dose. This appointment will be made during your first dose visit.
MODERNA VACCINE – BY APPOINTMENT ONLY
Individuals that have completed a 2-dose series of the Moderna COVID-19 vaccine and are seeking a 3rd* dose will need to make an appointment by calling 772-462-3800. Listen to the menu and select option "1" to schedule a medical appointment.
*THIRD DOSE:
Currently, CDC is recommending that moderately to severely immunocompromised people receive an additional dose. You should talk to your healthcare provider about your medical condition, and whether getting an additional dose is appropriate for you.
All individuals under the age of 18 receiving a vaccine must be accompanied by a parent or guardian and complete the COVID-19 vaccine screening and consent form. To download a copy of the form, click on the "MORE INFORMATION" link below.
COVID-19 TESTING:
The Florida Department of Health in St. Lucie County in collaboration with Allied Health and St. Lucie Board of County Commissioners offers a walk-up COVID-19 testing site at the Gwenda Thompson Trades Career Center on 3855 S. US Hwy 1, Fort Pierce, Florida 34982. Testing is conducted Monday – Friday from 9:00 a.m. to 5:30 p.m. Testing site will be closed on major holidays. No appointment is necessary. Testing is free. For persons with health insurance, Allied Health will bill the insurance company and will not charge a co-pay.
For more details call (407) 337-6992.
More Information
Popular Programs & Services